Last Christmas I decided I needed an ancestor story to match the season. I thought about family members who lived at Rathdown Workhouse in Dublin, Ireland and what manner of Christmas might be celebrated there. On a hunch, I searched the British Newspaper Archives, and found what I had hoped: an account of a charitable effort to give the Workhouse children a happy Christmas!
That was my hook!
I supported the story by searching workhouse records to verify the family had actually been there, and to accurately portray how frequently their visits there were. When I felt I had a good understanding, I began to write ….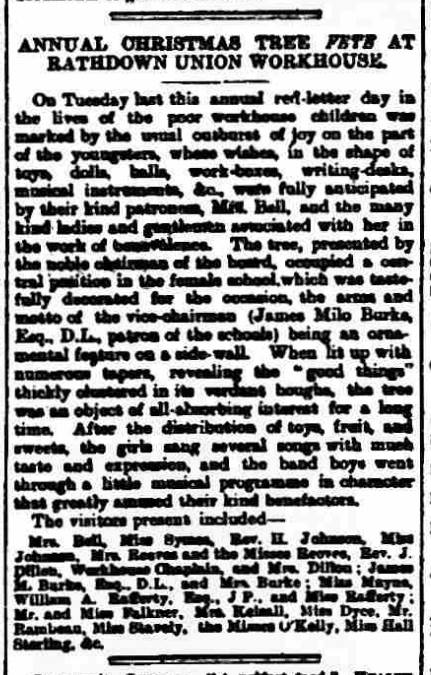 The Rathdown Workhouse in County Dublin, Ireland was an extraordinarily severe experience. By design, it offered bare subsistence so the poor would be motivated to move on and become self-sustaining. The food was poor quality and sparse, barely enough to support life. Husband, wife, and children—except for the very young—were kept apart from each other. Adults worked to earn their keep, including tasks necessary to the functioning of the workhouse: laundry, maintenance, cleaning, and food production and preparation. Children attended school.
By 1890, Margaret Martin Grady's family was growing up fast, with Peter (12), William (7), Christopher (4), and Daniel Jr. (baby). Ireland offered very little opportunity at that time, and no work could be found for their father, Daniel Grady. The Workhouse—meager, disparaging, and grim—was all that stood between them and starvation.
The Grady family entered the Workhouse on July 4, 1890; they remained within its walls until June 20, 1891. Of the five years that followed, the boys spent 208 weeks within the Workhouse and only 52 weeks outside. The Workhouse, with all of its deprivations, was the closest thing to a permanent home the young boys knew.
When Christmas came in 1890, it brought magic even into the walls of the Workhouse. Good Mrs. Bell and her committee of angels provided a Christmas fete for the Workhouse children: a tree lit with tapers and bursting with all manner of toys; a feast royal to delight the wide-eyed children who daily fed on gruel; music and games supplanting the stark daily routine.
On January 15, 1891, The Irish Times described the "Annual Christmas Tree Fete at Rathdown Union Workhouse":
"On Tuesday last this annual red-letter day in the lives of the poor Workhouse children was marked by the usual outburst of joy on the part of the youngsters, whose wishes, in the shape of toys, dolls, balls, work-boxes, writing-desks, musical instruments, &c., were fully anticipated by their kind patron, Mrs. Bell, and the many kind ladies and gentlemen associated with her in the work of benevolence.
"The tree … occupied a central position in the female school, which was tastefully decorated for the occasion…. When lit up with numerous tapers, revealing the 'good things' thickly clustered in its verdant boughs, the tree was an object of all-absorbing interest for a long time.
"After the distribution of toys, fruit, and sweets, the girls sang several songs with much taste and expression, and the band boys went through a little musical programme in character that greatly amused their kind benefactors."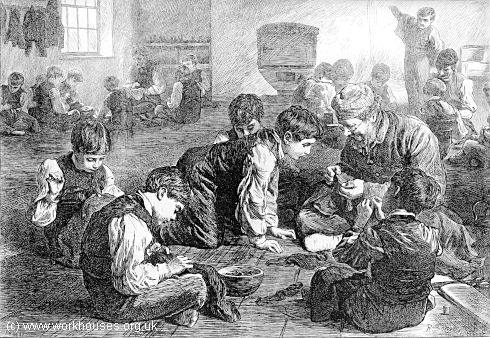 Can't you just see seven-year-old William Grady, squirming with delight at the toys and lights and treats? Did he hope for a toy top or a ball, do you suppose?
And four-year-old Christopher, born on Christmas Eve–wouldn't he delight in the joyful season and feel he belonged there always? Perhaps this was the first Christmas he remembered, a moment that could never be matched for magic, as first impressions often are.
Do you sense Peter Martin, as oldest brothers often do, delighting in the his brothers' pleasure more than his own high-spirited fun? Was Peter one of the band boys? Did he play his violin for the fete, as he often did for his own children in later years?
It seems the "Christmas Tree Fete" was an annual occurrence, a bright spot, something to anticipate in the otherwise dreary Workhouse life. I feel to bless Mrs. Bell, her committee, and all the kind-hearted people who made a cheery Christmas for my family who lived in such grim, unpromising times.