"The single most important thing you can do for your family may be the simplest of all: develop a strong family narrative."
"The more children knew about their family's history, the stronger their sense of control over their lives, the higher their self-esteem and the more successfully they believed their families functioned."
Why is family history so important?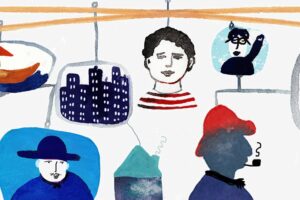 A few years ago, my daughter sent me a compelling article from the New York Times, "The Stories That Bind Us." Bruce Feiler, the writer, introduces a study that makes some pretty amazing claims: "The single most important thing you can do for your family may be the simplest of all: develop a strong family narrative."
Marshall Duke and Robyn Fivush of Emory University wondered if children who knew their family stories would be better at dealing with challenges and stress. In 2001, they tested that hypothesis:
"They developed a measure called the 'Do You Know?' scale that asked children to answer 20 questions.
"Examples included: Do you know where your grandparents grew up? Do you know where your mom and dad went to high school? Do you know where your parents met? Do you know an illness or something really terrible that happened in your family?Do you know the story of your birth?"
The researchers surveyed and ran psychological tests on the children in 48 families. When Duke and Fivush correlated the results, they were blown away.
"The more children knew about their family's history, the stronger their sense of control over their lives, the higher their self-esteem and the more successfully they believed their families functioned. The 'Do You Know?' scale turned out to be the best single predictor of children's emotional health and happiness."
That's a pretty amazing claim! One that I absolutely believe is true. But why are family stories so powerful? It has to do with feeling you're not alone, a "sense of being part of a larger family."
"[C]hildren who have the most self-confidence have … a strong 'intergenerational self,'" said Dr. Duke. "They know they belong to something bigger than themselves."
But here's the catch—you can't just tell children the happy bits and leave the darker tales unknown. You must give the whole fabric: overcoming obstacles, accomplishment, disaster, failure, and making it through. Because nobody's life is all pretty. Am I right?
As Bruce Feiler summarizes, "The bottom line: if you want a happier family, create, refine and retell the story of your family's positive moments and your ability to bounce back from the difficult ones. That act alone may increase the odds that your family will thrive for many generations to come."