What do you do when you can't find records from the usual sources: birth, marriage, death, and census?
Of course there are plenty of other places to look, including land records, probate records, court documents, workhouse admissions, and prison records to name a few. But one of my favorite places to look that can yield pretty amazing results is—NEWSPAPERS!
I have an ancestor that probably pulled a shotgun on the census takers. All we have for William S. Martin are two census records: as a lad of seven, William is listed in 1851 Scotland Census; fifty years later he's on the 1901 Canadian Census. We have a death certificate for him: William died in 1903 in Salt Lake City, Utah. But William wasn't christened, and he didn't marry.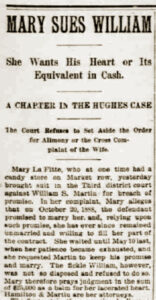 That's not much of a story.
Fortunately, Salt Lake City newspaper hacks adored William! They published amazing details about this man who lived in epic proportions. He was a well-known miner who struck it rich big time. A bon vivant, he held court in the lobby of the grand Cullen Hotel where he lived. When Mary LaFitte sued William for breach of promise to marry, city rags hooted and spilled every comic detail. Our William—Captain Bill to the press—invested in railroad lines, in gold mines, and in real estate. After blowing through his entire fortune, William rushed off to the Klondyke to make another while the newsmen followed his adventures from afar.
Now that's a story!
MORE—"Finding the Details: William Martin Goes Yukon!"
MORE—"William S. Martin Goes Yukon! by Magisto"
So how do you find these stories? More pointedly, how can you find these stories without paying a fortune to newspaper services? Never fear—Not Your Grandmother's got it covered!
Free Newspaper Access!
Here's a (partial) list of sources that give free newspaper access. In my experience, it's worth searching every archive that applies, as search engine methods and/or content vary from source to source.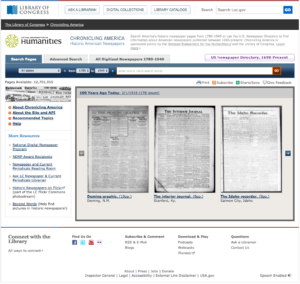 The Library of Congress's Chronicling America—As of this writing, all but five states participate in the National Digital Newspaper Program, a joint effort between the National Endowment for the Humanities (NEH) and the Library of Congress to make newspapers available nationwide. (That includes territories, if only Puerto Rico for now.) With editions from 1789 to 1949, you can search by state, by newspaper, or at large. The collections are spotty–there may be only five issues extant of a seven-issue week–but there's an awful lot to work with!
Various state archives. Utah is a star in this category, with their Digital Newspapers project run by the University of Utah Marriott Library. California has the California Digital Newspaper Collection (CDNC), a state counterpart of and contributor to the NEH national effort. Managed by the University of California, Riverside, the CDNC newspaper archive runs from 1846 to the present, and thus appears to have material beyond what it supplies to Chronicling America. Nevada has come a little late to the game, but their contributions are growing quickly. Nevada Digital Collections  holds seven newspapers with editions that range from 1863 to 1924.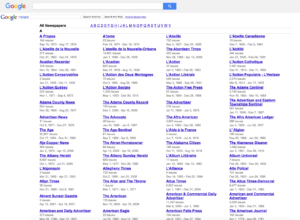 Google newspapers  maintains a huge archive of scanned U.S. and international newspapers. Unfortunately, they don't search well. (Go figure! You'd think Google would have figured THAT out!) Nonetheless, this is a valuable archive for when you know there must be an article, birth announcement, or death notice, etc., but it's not showing up in search engines of the digitized text.

When my great-grandfather Peter S. Martin died, two of the three major Salt Lake City newspapers mentioned his passing and paid tribute. The third and largest newspaper showed nothing despite repeated searches with different variables. So I went through the relevant edition page by page. My reward—an account of his passing including his final words to his family.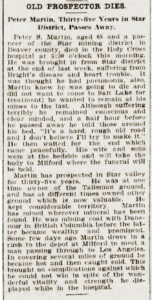 When all else fails, the pay-to-play newspapers often have issues of newspapers that aren't available elsewhere. The different companies are not hard to find so I won't list them here. (Also, I hate to disparage any company by name!) The biggest drawback to these services is that they maddeningly require you to sign up for automatically renewing subscriptions that are confusing and difficult to cancel.
The British Newspaper Archive (BNA), however, is a happy exception. They allow you to pay just for a certain number of views; when that runs out you sign up for more. The BNA is the best for research in the United Kingdom and Ireland. I recommend signing up directly with them and not through a secondary provider.
Newspapers are like other documents—sometimes you can search and never find a thing on your ancestor. But with newspapers, those times when you do are golden! Colorful incidents, personal details—you just never know!